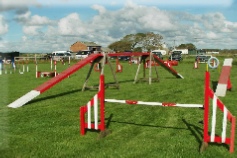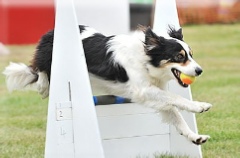 PODS host (independent) Agility Training Shows offering handlers and their dogs experience of competing in a competition environment and practice new things by running each course twice. The morning training is followed by an afternoon competition of two courses, one each of agility and jumping. The shows are held at Tai Lawr three times a year around April, June and September.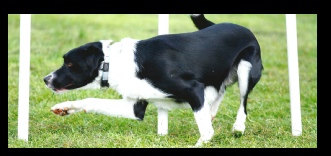 Subscribe for PODS Agility Show News

Links to the schedules and entry forms will appear below for you to download. Alternatively, you can subscribe to our Agility Show News Email by clicking on the mail icon.

At PODS we are fortunate to have access to three Kennel Club Agility Measurers. Peter and Tracey are available most Saturdays during training and we have measuring sessions during our own Agility Training Shows and on occasions throughout the year. A third measurer, Rex, lives just a short distance away. So if you want your dog measured, please contact us.
Remember, your dog should be registered either on the KC Breed Register or the KC Activity Register.
For more about KC measuring, click here.
2019 Agility Show Dates
Saturday 27th April
We are having a fun "pay on the day" show.
Further details and a schedule will follow. There is no need to pay in advance, but do let us know if you interested so we can get an idea on numbers.

Dates of upcoming measuring sessions will be posted here:
PODS sends email to you using MailChimp. You will not be sent any emails from other companies and can update/amend your preferences at any time.