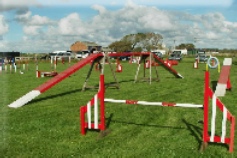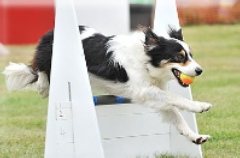 PODS are a busy bunch of people hosting and competing in Flyball and Agility shows throughout the year as well as providing demos at county or village shows and running twice weekly training sessions.
Weather permitting, there will be training on Saturdays and Wednesdays all year round with the exception of dates you may see below, however if you intend to come to a training session and are unsure please call and check first.
Details on seasonal training times can also be found.
You will also find details of any demos we are taking part in below.
There will not be training on the following dates:
NIL


These sessions offer a more formal and structured training programme for beginners.
The sessions also welcome handlers and dogs with some experience of Agility who are considering entering competition and seeking additional competition skills.
They are weather dependent so please do not turn up without checking with Tracey first.
These are not open training sessions, please notify Tracey if you wish to attend.
To book and for more details contact - tracey@podsflyball.co.uk
Sessions take place weekday mornings subject to demand as follows: alternate Tuesday & Friday mornings between 10.00 - 12.00
Please note that our Winter Training Times are now in effect with training taking place on Saturdays between 11 - 3 and on Wednesdays between 12 - 3.
All are welcome.
Details of any future Demo's will be posted here.
If you would like PODS to provide a demonstration at your village or county show, email or call us - details can be found here.